Spring is back and it brings state conferences, competitions and other SkillsUSA activities to the peak season. I hope your chapters' participation has been exciting and rewarding. As you are beginning to wind up your school year, I hope to see many of you at the 2013 National Leadership and Skills Conference in Kansas City.
And, again, as a reminder - SkillsUSA has begun the "Skills Build America" Campaign. For more information, please go to: www.skillsusa.org/supporters/supportnew.shtml. I hope you will take time to review the material and consider participating in this important initiative leading up to our 50th anniversary.
---
Pin and T-shirt Design Winners

Congratulations to Cerinn Park, the 2013 winner of the SkillsUSA National Pin Design Competition. She is a student in the Academy of Digital Design program at Morris County School of technology in Devnille, N.J. Her advisor is Dale Bendsak.
Congratulations also to Adam Stevens, the 2013 winner of the SkillsUSA National T-shirt Competition. He is a Digital Art & Design Student at Lexington Technology Center in Lexington, S.C. His advisor is Anna Reeside.
Both students will be recognized along with their advisors at the Opening Ceremony of the National Leadership and Skills Conference in Kansas City this June. Each of their high schools will receive $5,000 from Lowe's Charitable and Educational Foundation for classroom and equipment improvements. Each participant at NLSC will receive a conference T-shirt and pin showcasing the design through the Lowe's sponsorship.
---
SkillsUSA Official Graduation Regalia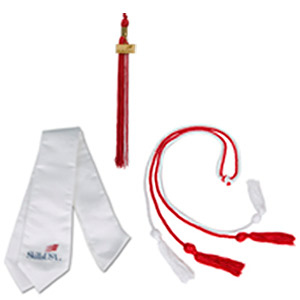 Be sure to recognize the hard work and achievements of your graduates with the gift of official SkillsUSA graduation regalia. SkillsUSA stoles, tassels and honor cords can be purchased now before the rush of graduation season sets in. Just go to: www.skillsusastore.org to order.
---
GAERF Student Design Competition
The Graphic Arts Education and Research Foundation (GAERF) has announced the launch of the GAERF 2013 Student Design Competition, themed "Forever Print." This annual contest, in its fifth year, challenges students to demonstrate their creativity and skill by producing a printed product that in today's world cannot be replaced by electronic media. All students who attend recognized high school or postsecondary institutions in the continental United States who are studying in a graphic communications/printing, advertising, graphic design or interactive media program can enter.
First-place winners and their instructors will receive a two-day trip, all expenses paid, to attend PRINT 13 in Chicago, Ill. The winning students will receive an award of $2,000 presented at PRINT 13 during Career Awareness Day on September 12, 2013. Second-place winners will be awarded $1,500, and the third-place winners will receive $1,000 and will receive their awards via USPS delivery by September 30, 2013. All student entries will be showcased online here, and also in PRINT 13's Education Main Street pavilion.
If you have questions, please contact Eileen Cassidy at 703/264-7200 or by email to ecassidy@npes.org. For more information, visit: www.graphicCOMMcentral.org. The entry deadline is June 14, 2013.
---
State Farm Grants

Celebrate My Drive
State Farm is offering a grant opportunity for schools to win either one of 10, $100,000 grants; one of 90 $25,000 grants; or a grand prize concert for a school by a chart-topping music artist. The program Celebrate My Drive is a safe-driving program where one's community is encouraged to make safe driving commitments on behalf of a school during the commitment period. The more commitments made, the better the chances of winning a grant for a school and maybe even a concert by a chart-topping music artist. For more information on the program, please go to: www.celebratemydrive.com.
Service Learning Grants
State Farm Youth Advisory Board (YAB) service-learning grant applications are available now until May 3. The grants range from $25,000 - $100,000 and are designed to create sustainable change in local communities across the United States and Canada. Public K-12, charter, higher education institutions, and non-profit organizations are eligible if they are able to demonstrate how they plan to impact student achievement within the public K-12 curriculum. All applicants must have a youth contact and adult administrator, as the programs must be youth-driven and youth-led.
---
FY12 Annual Report

SkillsUSA's Annual Report for FY12 is now available online. The contents illustrate our successes in both program delivery and the financial stewardship of our mission to empower our members to become world-class workers, leaders and responsible American citizens. To view the Annual Report, go to this link.
---
Partnership with Gates Corporation - Education
SkillsUSA is pleased to announce a new partnership with Gates Corporation - Education. Their "Tools for Schools" program is a great opportunity for SkillsUSA's automotive teachers.
The purpose of the "Tools for Schools" program is to provide educators with supplemental educational materials from a global company. Gates assists many of the Original Equipment Manufacturers (OEMs) with their research and development. Through this program new products and systems are designed and problems solved. Technology is changing so quickly that it can take years for the latest information to reach you and your students. The "Tools for Schools" program is one way Gates can ensure the latest technology and information are available to you 24/7 simply by accessing their website. Gates hopes you make their site a daily part of your learning curriculum and that you will visit often.
The "Tools for Schools" program is made up of three components: (1) "Tools for Schools" website where all elements of the program can be found; (2) "Tools for Schools" Performance Center eLearning for your students contains a wealth of informative content and tests each student's ability to retain and understand via an exclusive training quiz found at the end of each segment; and, (3) "Tools for Schools" "Free" tool program. A program designed to reward the school for using the eLearning tool and using Gates products. Schools can earn Gates diagnostic and installation tools by accumulating points based on program participation.
---
Scholarship Opportunities Reminder
There are several scholarships opportunities available for students on the SkillsUSA website. Please pass the word.
Sharon Melton Myers Memorial Scholarship ($500) - Deadline, April 30, 2013 - go to this link.

Alumni Merit Scholarship (two @ $500 each) - Deadline, May 1, 2013 - go to this link.
---
CPR Certification During NLSC 2013

The Alumni & Friends Association is proud to offer CPR certification during the SkillsUSA National Leadership and Skills Conference on Tuesday, June 25, 2013, from 9 a.m. to noon at the Downtown Marriott, Truman B.
The American Heart Association (AHA) now offers a hands-on approach to ensure victims receive immediate care by non-medical personnel. This session will provide the basic knowledge to save a life in the event of such emergencies. In order to provide AHA certification, there will be a $20 charge collected onsite. Presenter: Brice Harader-Pate, RN, BSN and alumna, and Emily Hughes, alumna.
Online preregistration is required of all participants at: www.surveymonkey.com/s/VZNYZKL.

The Skill Connect Assessments are perfect for end-of-year testing. SkillsUSA offers 47 technical and employability assessments in 11 cluster areas including four co-branded assessments with ASE/AYES and five co-branded assessments with PrintED/GAERF.
Hardware/Software Requirements:
Ensure your students have a successful test session by verifying your hardware meets the requirements before the students attempt to take the assessment at this link.
Student Reset Password Report
The authorized administrators on the order can look-up the student usernames and reset passwords. Once logged-on to the test site, click the link "Reset Password Report." See the sample report on page #5 at this link.
Please encourage students to enroll into the test system only once. Each enrollment will decrease the number of tests your school has available to use. A duplicate enrollment of one student uses up another student's test and will delay testing.
Test license expiration date: Assessment tests may be administered anytime after purchase up until July 31. Unused test licenses are not refundable and cannot be carried over to the following school year or transferred to another assessment area.
Online grade report access expires on July 31st. Grade reports can be downloaded into Excel and saved to your hard drive for future use by clicking the export button in the grade report.
For general information on our assessments, visit our Work Force Ready System website at: www.workforcereadysystem.org, contact us at 703-737-0633, ext. 1 or email us at skillconnect@skillsusa.org.
---
U.S. Department of Labor Announces New Online Resources to Help Businesses Recruit, Train and Retain a Skilled Workforce
The U.S. Department of Labor announced on March 25th the launch of the Business Center, a suite of online resources for employers looking to recruit, train and retain a skilled work force through the department's CareerOneStop website.
The site includes tips about how to recruit qualified candidates through local American Job Centers and provides employment projections. Additionally, the site offers access to local training and educational institutions, a catalog of occupational certifications and a tool to help employers translate the military training and skills of returning service members into specific civilian occupations. The CareerOneStop Business Center is available online at: www.careeronestop.org/business.
---
Save Money on Learning Materials
and Support SkillsUSA at the Same Time

Cengage Learning has partnered with SkillsUSA to provide needed learning materials to members at a discount. The product areas include: construction, electrical, HVACR, plumbing, sustainability solutions, 3-D visualization and animation, audio/radio production, computer programming, A+/computer maintenance, job interviewing and photography. SkillsUSA members may purchase these items at a 20 percent discount plus 5 percent of the purchase will be donated to SkillsUSA. To order, go to this link.

---
The University of Phoenix and the Manufacturing Institute Scholarship Opportunity
The University of Phoenix and The Manufacturing Institute are offering 10 full-tuition scholarships toward a bachelor's or master's degree in a manufacturing-related degree program at the University of Phoenix. Aimed at developing a new generation of skilled and competitive manufacturing workers, the scholarships will allow recipients to choose online or ground classes so they can continue their career while earning their degrees. Eligible candidates must be currently employed by a manufacturer or interested in pursuing a manufacturing career; not be currently enrolled at the University of Phoenix; and apply by April 30, 2013.
Visit this link for details, including complete eligibility and application information.
---
New Partnership with Interstate Batteries
Reminder
SkillsUSA is excited to announce a new partnership with Interstate Batteries and a fundraising program for local chapters. This is a great opportunity for your chapters to raise funds in partnership with a company whose mission and product align very closely with SkillsUSA.
Through this partnership, local chapters can now sell Interstate Batteries products and they will receive 50 percent of the sales. Below is the link for your chapter to sign up today. This is a great program to participate in as you seek to raise funds for district and state events and for leadership development activities and materials. For more information, go to this link.
---
Engage Training for Chapter Advisors and Activate Training for Chapter Leaders at NLSC 2013
Engage for Teachers
Engage is the teacher training program from SkillsUSA that empowers teachers to grow their SkillsUSA chapters by using the latest information and tools in employability, leadership development and teaching strategies. It is a two and half-day professional development training designed to help teachers better understand and utilize the many leadership development materials and interactive resources available through SkillsUSA. The program is taught by experts within youth leadership development as well as guest presenters.
Engage will focus on new educational resources being launched by SkillsUSA at the National Leadership and Skills Conference. New products will be unveiled during the training and each workshop will be led by the author of that product. Participants will unpack the new resources and share best practices on how to implement these tools for the greatest impact in their chapters. Teachers participating in Engage will receive a set of all the new resources as a part of the training.
Activate for Students
SkillsUSA is all about encouraging students to assume leadership roles and to take action, whether at school, at home, or in their communities. SkillsUSA students serve as role models and on teams that get things done.
This three-day leadership conference will help SkillsUSA members find their "start button" through action-oriented, high-energy and motivational programming. Activate is open to all SkillsUSA members.
Participants will be led through a series of self-discovery, hands-on training which will include the following topics: values and character; maximizing strengths and talents; goal-setting; time management; responsibility and self-discipline; image projection; leadership characteristics; leading without a title; teamwork; building trust; conflict resolution; respecting others; communication; serving others and planning a service project. Students will complete the course feeling empowered with the necessary tools for success.
Both trainings will be held June 22-24 in Bartle Hall in Kansas City, Missouri and the cost is $135 per participant. Visit: www.skillsusa.org/events/engage.shtml and/or www.skillsusa.org/events/activate.shtml for full details.